By Cass Jacoby, RCS Reporter.
Don't let the talent shortage stop you from finding your dream team crew.
Hiring is hard enough on its own without issues like an aging workforce or COVID complicating things, which is why you need to stop wasting hours on BS candidates and build a predictable hiring process. Great news, the upcoming Contractor Evolution Summit can help you.
Join Breakthrough Academy for a special one-day virtual summit where you'll get the direction and resources you need to build a surefire recruiting plan. During the summit, Contractor Evolution podcast hosts Benji Carlson and Igor Trninic will be doing a LIVE episode with Brett Farrington, a Seattle-based contractor who overcame a massive recruiting gap, filling 14 empty positions in his organization in four months. Brett will break down how he built his recruiting funnel with the help of Breakthrough Academy's tools.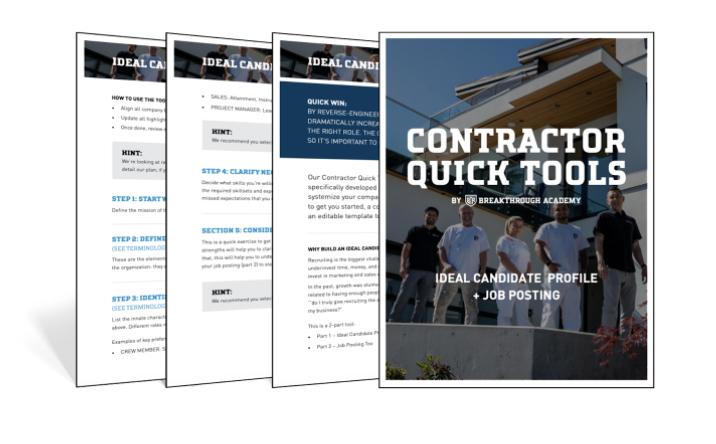 All attendees will receive Breakthrough Academy's Recruitment Focused Contractor Quick Tools:
Ideal Candidate Profile Guide + Template + Example

Job Ad Guide + Template + Example

Interview Setup Call Guide + Template + Example
Plus, at the end of the podcast, there will be a live Q&A, where you can have your questions answered by the experts.
But that's not all! The Contractor Evolution Summit also offers the opportunity to get a VIP-facilitated coaching session where you will work with a small group of like-minded contractors to establish a specific recruiting system action plan. Plus, you'll get access to all the same recruiting tools that have a proven track record of bringing contractors success.
The summit is set to take place March 24, 11 a.m. PT / 2 p.m. ET. General admission tickets are $27 and VIP tickets are $77. As a high-level contractor, you know that information is nothing without action, which is why we're pushing you to register for the Contractor Evolution Summit.

Learn more about Breakthrough Academy in their RoofersCoffeeShop® Directory or visit btacademy.com.
About Breakthrough Academy (BTA)
Breakthrough Academy (BTA) helps roofers systemize their companies to grow. We inject contracting businesses with the infrastructure they need to scale, help them make more money, and help owners to work a lot less by implementing intelligent systems. During the first 12 months in the program, average Members see significant time savings, 21% increase in revenue, and 40% increase in net profit.
BTA works with over 450 contractors across North America, managing over $1.3 billion worth of revenue, and was rated Canada's 213th fastest growing company by The Globe and Mail's Report on Business in 2021; the fourth consecutive year on a national growth list for the brand.