By Cass Jacoby.
You received a resume, you think it looks pretty good and now it's time to pick up the phone. How do you nail the pre-interview first impression?
Let's be honest, hiring is hard! Finding the best people and creating a world-class recruiting and hiring funnel takes a lot of time and work, but it is a pivotal part in building the infrastructure your business needs. After all, how can you build an amazing team without bringing aboard the best players?
Believe it or not, one of the most overlooked parts of the recruitment process can be the interview set up call. It's your first impression of them and it's their first impression of you, so you don't want to rush through the process. This call also helps solidify to your candidate that they want to work for your company. A good set-up call is the first step in ensuring that your potential candidate is excited to show up for the interview.
If you want to only sit down with great people who are excited to work for you, then you need this Contractor Quick Tool (get it below) from Breakthrough Academy!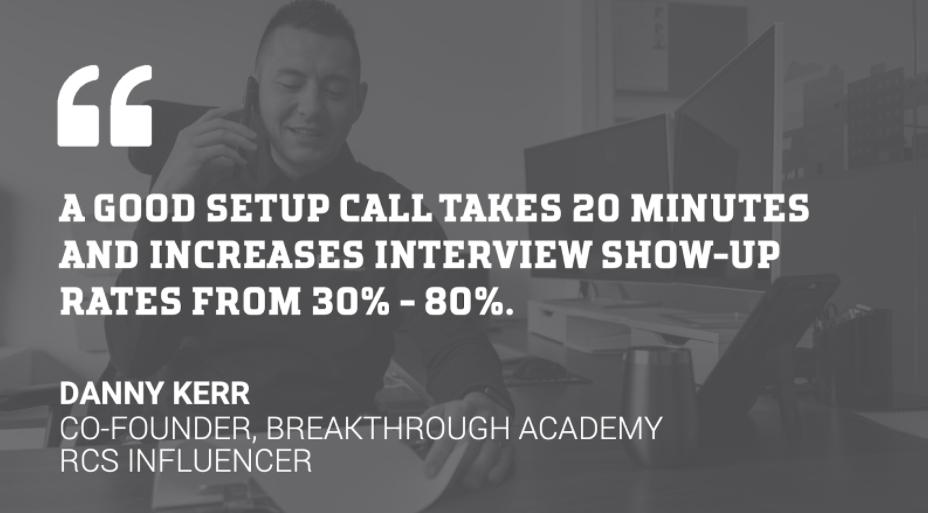 The Interview Set Up Call Tool makes nailing this set up call easy, squashing the awkwardness by helping you:
Standardize your interview setup call, making sure every time you get on the phone with a job applicant you follow the same linear steps for success.

Take the guesswork out of screening new candidates so that you are only meeting with the top contenders for the job, significantly reducing the chances of your time being wasted by a no-show interview.

Bring in some swagger to your call, setting the tone for the new hire by showing your confidence in your company.

Prepare for an awesome interview by helping you set goals within the first phone call and connect with your candidates.
It is vital that you use this time to screen your candidates and get to know each other so that when you sit down and meet you are both excited about the interview.
Optimize your first impression! Get a copy of The Interview Set Up Call tool today!

Learn more about Breakthrough Academy in their RoofersCoffeeShop® Directory or at their website at btacademy.com.
About Breakthrough Academy
Breakthrough Academy (BTA) helps roofers systemize their companies to grow. We inject contracting businesses with the infrastructure they need to scale, help them make more money, and help owners to work a lot less by implementing intelligent systems. During the first 12 months in the program, average Members see significant time savings, 21% increase in revenue, and 40% increase in net profit.
BTA works with over 450 contractors across North America, managing over $1.3 billion worth of revenue, and was rated Canada's 213th fastest growing company by The Globe and Mail's Report on Business in 2021; the fourth consecutive year on a national growth list for the brand.