Western Roofing Expo 2022

YOU NEED TO BE HERE!
Known as the premier regional roofing event in the United States, the Western Roofing Expo 2022 - September 24-26 at The Paris Las Vegas - features a two-day trade show, 24 educational seminars, two keynote luncheons, the Roofing Games™, golf and sporting clays tournaments, an amazing welcome party & lively-silent auction, and unbeatable networking with powerful industry connections.
Visit WSRCA's website to learn more.
---
Davis Memorial Foundation: 2022 Scholarship Application
About the Foundation:
The Davis Memorial Foundation is proud to establish this scholarship fund in memory of Larry and Mary Davis. Larry was an integral part of the roofing industry for many years serving on several roofing industry association boards which included the RCA of California and Western States Roofing Contractors Association. Larry and his wife Mary perished in a 1995 airplane accident near their home in Modesto (California) while returning from a WSRCA Committee meeting. This fund was established to honor their support for industry education.
Eligibility:
All candidates must be:
1. Provisionally accepted as students into undergraduate or graduate degree programs for the coming academic year by accredited colleges, universities or vocational education programs.
2. Resident of the states covered in the WSRCA service area including: Alaska, Arizona, California, Colorado, Hawaii, Idaho, Montana, Nevada, New Mexico, Oregon, South Dakota, Texas, Utah, Washington, and Wyoming.
3. Affiliated with the roofing industry.
---

Roofing Contractor is the premier industry publication written specifically for the contractor. Our bold, concise and timely editorial addresses issues critical to contractors and provides the information and insight that help contractors succeed.
Accessible on any device, there are countless benefits to subscribing to the eMagazine:
• Intuitive navigation and interactive design create an enhanced reading experience
• Share your favorite articles with the touch of a button
• Download the PDF version for offline viewing at your leisure
• And so much more!
Roofing Contractor's eMagazine makes it easier than ever to access articles, interviews, videos and more. Check out this month's issue and see for yourself!
Free subscriptions are limited, reserve yours now!
---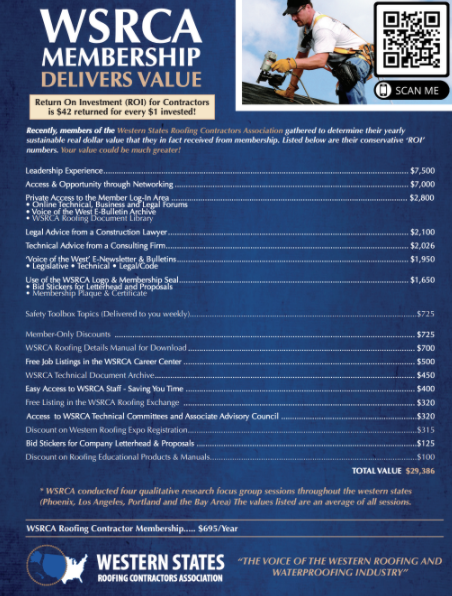 Western States Roofing Contractors Association is a non-profit regional association of roofing, roof deck and waterproofing contractors and industry related associate members. The association's close and frequent contact with members and its programs and services are vital to the successful operation of member companies.
The Western States Roofing Contractors Association (WSRCA) was formed in 1974 to preserve and promote the roofing industry in the western region. WSRCA's purpose is to provide assistance to enable its members to operate successfully and competitively.
WSRCA members recognize that the perpetuation of such a healthy business environment is greatly influenced by their professional conduct. The association strongly supports the following practices and encourages its members to do the same.
Professional roofing contractors:
Are honest and straightforward in their dealings with clients, submitting reasonable proposals and answering all questions pertaining to those proposals
Stand behind their work, offering warranties or guarantees where appropriate
Enter into contracts that are fair and equitable, and that clearly assign and delineate responsibilities
Offer evidence that their companies are bonded, insured or licensed in locations where it is appropriate or required
Recognize that the employee's health and safety are of paramount concern to the company and its employees
Support the education and training of their employees
---

---
Recently, members of the WSRCA gathered to determine their yearly sustainable real dollar value that they in fact received from membership. Listed below are their conservative ROI numbers. YOUR VALUE COULD BE MUCH GREATER.
BECOME A MEMBER TODAY and start earning $38 for every $1 invested in WSRCA Membership!*
Leadership Experience:

$6,500

Access & Opportunity through Networking

:

$6,000

Private Access to the Member Log-In Area

:

$2,400

WSRCA Mobile Safety Solutions

NEW!

Online

'ROOFTALK' Blog

NEW!

WSRCA Technical Document Archive

Technical Advice From A Consulting Firm

:

$1,775

Voice of the West

E-Newsletter & Bulletins:

$1,687

Use of the WSRCA Logo & Membership Seal

:

$1,425

Member-Only Discounts

:

$637

Free Job Listings in the WSRCA Career Center

NEW!

WSRCA Roofing Details Manual for Download:

$612

Safety Toolbox Topics

(60 OSHA Approved Topics)

Legal Advice from a Construction Lawyer

:

$587

Easy Access to

WSRCA Staff

– Saving You Time:

$350

Free Listing on the

WSRCA Roofing Exchange

:

$275

Discount on

Western Roofing Expo

Registration:

$237

Access to

WSRCA Technical Committees

and

Associate Advisory Council

:

$237

Discount on

Roofing Educational Products & Manuals

:

$87

Free

Western Roofing Magazine®

subscription, the official publication of the WSRCA

Bid Stickers for Company Letterhead & Proposals

TOTAL VALUE OF WSRCA MEMBERSHIP: $22,809
'ROI' FOR CONTRACTORS IS $38 RETURNED FOR EVERY $1 INVESTED.
*WSRCA conducted four qualitative research focus group sessions throughout the western states (Phoenix, Los Angeles, Portland and the Bay Area) The values listed are an average of all sessions.
---
Become a Member