The Midwest Roofing Contractors Association (MRCA) is an association of roofing contractors that have joined together to develop and administer programs and services that help member companies build their business, save them money while continually working to improve the roofing industry. MRCA represents the needs of the contractor to manufacturers, consultants and other regulatory agencies. While MRCA consists primarily of roofing contractor members, those in the supplier segments are allowed to join as Associate members.
Interested in joining? Click here for more information and we can get in touch.
---
MRCA's CERTA & HAWT Training at Beacon Facilities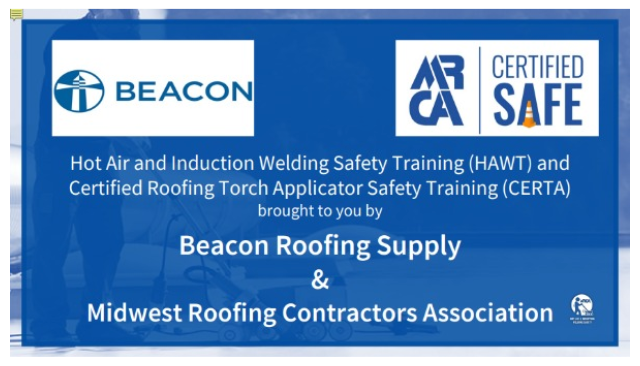 The Midwest Roofing Contractors Association (MRCA) is pleased to announce its partnership with Beacon Roofing Supply to deliver the MRCA's new Certified Safe™ Authorized User Level safety training program! Together with select Beacon locations, the MRCA now brings live, in-person training for both the new Hot Air and Induction Welding Safety Training (HAWT) and the CERTA Certified Roofing Torch Applicator Programs to convenient locations near you!
---
Registration for the 2021 Conference & Expo is now OPEN!
With the great success of the Kansas show in 2019 and then the forced cancellation of the 2020 Conference & Expo, the MRCA Board, Committees, Councils and Staff have been working hard to keep up the momentum putting all of their efforts into planning a great show for you in Milwaukee, Wisconsin. For many of us, this will be our first convention and trade show since prior to the pandemic, so everyone is doing their best to make it MRCA's most memorable show to date.
Keep an eye out for new educational sessions both on and off the trade show floor as well as even more product demonstrations, hands-on experiences, and enhanced technology-based interaction with the popular Product Peep Shows and Mobile Conference App.
This year, we are also excited to hold our 3rd Annual MRCA Roofer Challenge! All Contractors and their employees are encouraged to enter the Roofer Challenge which will be held on the Expo Floor the last day of the show and will feature 4 industry-related events. Each event will be scored on both speed and quality with the 1st Place Winner going home with $1000 CASH! Registration is free so keep an eye out for details in upcoming Conference Promotion materials!
Click on the Image to for a Chance to Get a Free Pass!
---
Right now the MRCA has a few initiatives going on:
The Young Contractors Council has a new resource for MRCA Members The Peer Group video conference series is a chance to exchange information with others in the Roofing Industry who experience the same challenges that you do on a daily basis. We will be covering different topics that span the entire industry. To participate, check out this flyer, and then email Megan Miller at mmiller@mrca.org. You will receive a reply email with a short interest survey that will help us guide you to the right Peer Group!

Then MRCA Foundation - The purpose of the MRCA Foundation is to raise awareness and improve the industry by supporting educational programming, industry research, and industry-related academic scholarships. Your ongoing support of the MRCA Foundation is critical to sustaining this important mission. Learn more here.
---
Community Impact & Industry Innovation Awards Nominations are being Accepted!

Community Impact Award:
The Midwest Roofing Contractors Association (MRCA) Community Impact Award recognizes a MRCA member company that has demonstrated a commitment to improving the well-being of communities or individuals through philanthropy or community service demonstrated
at a local or national level.
Click here for online nomination form
Click here for printable nomination form
Industry Innovation Award:
The Midwest Roofing Contractors Association (MRCA) Industry Innovation Award recognizes suppliers and manufacturers who have contributed to the advancement of the roofing industry through innovations or product development related to safety, technology, efficiency, or environment, and significantly improved the well-being of the roofing contractor.
Click here for online nomination form
Click here for printable nomination form
The Community Impact and Industry Innovation Award winners will be announced at the 71th Annual MRCA Conference and Expo
November 9th-11th in Milwaukee, WI!
---
Does your team need safety training? As an MRCA Member, you will receive safety material and training opportunities monthly in English and Spanish!
Become an MRCA member and take advantage of this service. For more information visit MRCA's Safety Page HERE
---
MRCA Foundation Scholarship Applications are Available Now for 2021!
Click Here for more information!