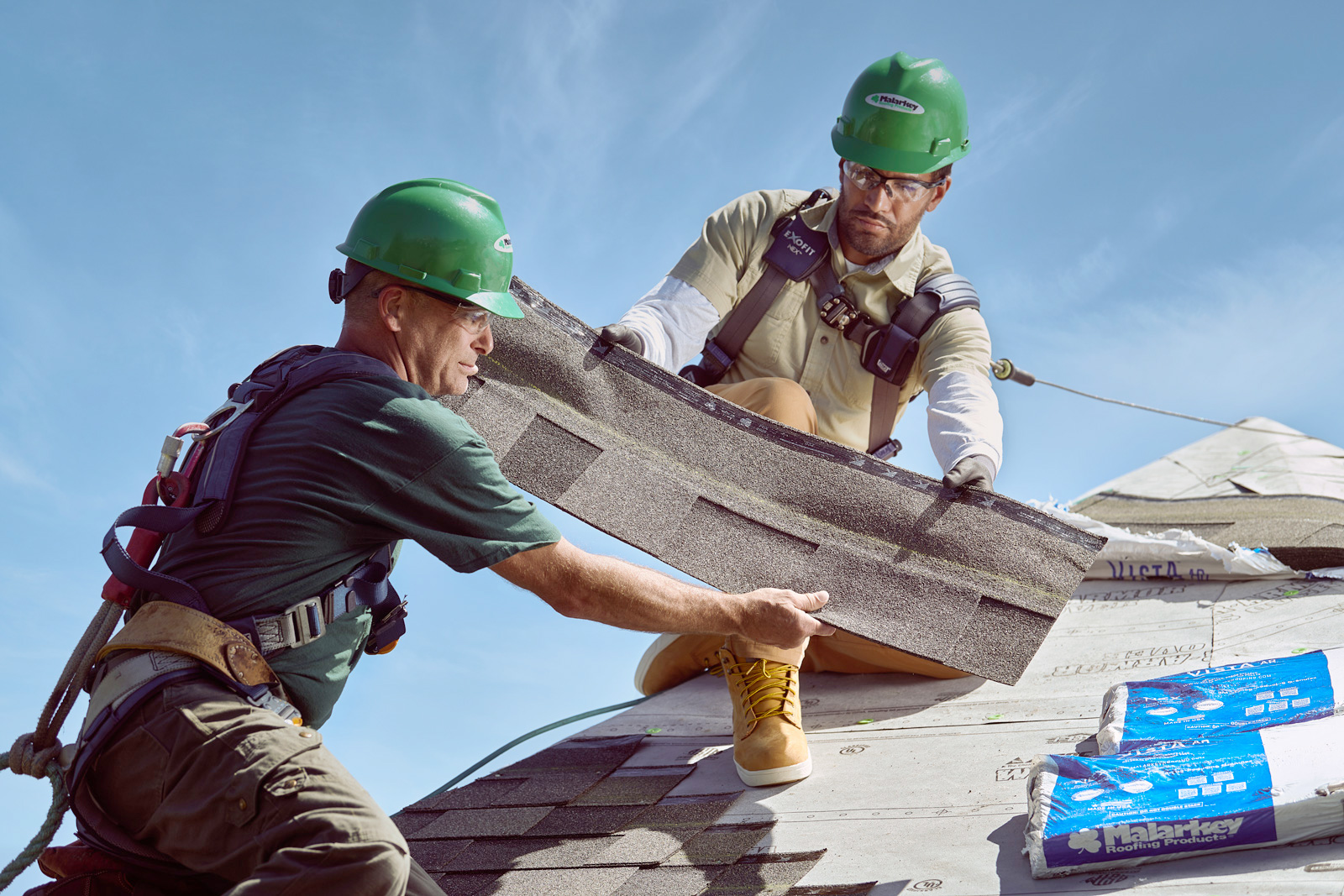 Malarkey Roofing Products® offers a full line of advanced commercial roofing systems for low slope roofing applications. Malarkey is focused on providing the most innovative low slope products along with the best technical and customer service in the roofing industry.
Founded in 1956, Malarkey Roofing Products is a family-owned, US manufacturer of
residential and commercial roofing products, with production facilities in Oregon, California, and Oklahoma. A little more thought, a little more effort, a little more care. If there's a better, more sustainable way to make a shingle, we intend to find it.
Standard shingles are made of hard, dried-out asphalt. They're brittle, and under stress, prematurely age and crack. It's why we pioneered rubberized asphalt in shingles. Combining high-grade asphalt with virgin rubber polymers (SBS), as well as recycled rubber and plastic polymers, our proprietary NEX® Polymer Modified (Rubberized) Asphalt technology chemically rubberizes the asphalt core of the shingle for superior all-weather resilience, longer product life, and reduced environmental impact, while smog-reducing granules help clean the air of emission pollutants. Made better to last longer, and more sustainable. That's a Malarkey shingle.
---
Made in Oklahoma - Malarkey Roofs New Home Builders Association
Malarkey Roofing Products is proud to provide
the Oklahoma Home Builders Association with
180 squares of our sustainably-designed,
performance-engineered Vista roofing
shingles for their new office building.
See how we create these industry-leading
shingles for home builders and home
owners.
---
Laminated Architectural Shingles in the Secure Choice™ Roof System
Laminate Architectural Roofing Shingles are an important part of the new Secure Choice™ roof system.
This system is a family of residential products including underlayments, starter shingles, field shingles, and finally, ridges.
These products are manufactured and controlled for quality and dependability by Malarkey.
Together, the components of the roofing
system assure homeowners that their
choice is a Secure Choice™.
---
How The Zone Nailing Area Improves Roofing Shingle Installation
On the average roof, there are about 7,920
nails.
Each of those nails must be installed correctly.
Any exception is the weak link that will cause
a leak or defect.
The Zone nailing area was developed by
Malarkey Roofing Products to ensure the
contractor has the opportunity to install
the roof correctly every time.
---
2019 Sustainable Roofing Shingle Innovations by Malarkey Roofing Products
With upcycled materials and smog-reducing granules, Malarkey Roofing Products is manufacturing the most sustainable
roofing shingles available.
At the 2019 International Roofing Expo in Nashville, the Malarkey team shares
details of these roofing innovations.
---
Make it Right - FaceBook Live
'Make it Right' Mike Holmes came to our booth at the International
Builders' Show this year to talk roofing excellence and sustainable
innovations with our team.