By Heidi J. Ellsworth, Partner RoofersCoffeeShop.com.
RCS Roofing Road Trips – #1 – Boston, Massachusetts.
This road trip started out a little bit before spring with our trip to the Northeast Roofing Contractors Association (NERCA) annual convention. If you are not aware, I travel a lot with my husband, Tim Ellsworth. Yes, it is great. After raising two phenomenal children (James and Megan), we are free birds and ready to travel the country on our Roofing Road Trips.
Tim and I were excited to be attending the NERCA convention. Such an amazing group of roofing contractors and great association management. It had been a while since we had been able to be a part of the convention and I have to say it did not disappoint. RCS is very proud to have NERCA as a partner and our opportunity to support their convention was a highlight.
In fact, we had so many contractors come by our booth visiting with Tim (he is in charge of the booth) and sharing their memories of Roofers Exchange and RoofersCoffeeShop® that we were blown away. It was so awesome to spend time with folks who were finding us all over again. That is what the road trip is all about, reminding those of you who may have forgotten about us to start visiting us again daily on the web or Facebook.
The contractors, distributors and manufacturers that we spent time with were amazing. We discovered products like GutterBrush, MAJ Roof Scaffold Systems and Henry's restoration roofing systems. Tim made friends as he always does with folks from ABC Supply and numerous roofing contractors. The National Women in Roofing event was outstanding, organized by the incredible Christine Mockenhaupt of Beacon. But, the highlight of our trip were the students from Essex County Schools of Technology.
Of course, it was Tim who found them first. An outstanding young man name Quinton came by our booth and soon Tim and Quinton were fast friends. It ended up that the local vocational school had been invited by NERCA to attend. There were young men and women walking the tradeshow learning about roofing, it was inspirational. We knew we had to document it, so I sent Tim to find Quinton and gather the troops.
Before you knew it, these future craftsmen and women were standing in our booth learning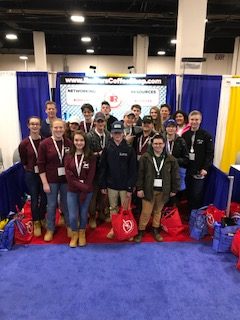 about the Coffee Shop. We took pictures, shared bumper stickers and talked roofing. It was so obvious that this is our future! As an industry we must keep inviting them in. I want to give a HUGE shout out to NERCA for inviting them to the convention and giving them the opportunity learn more about this great industry of roofing.
I also want to thank the teachers who continue to help our next generation understand the importance and honor of the trades. Without our vocational teachers, we would be lost. As you may be able to tell, this is a passion for both Vickie and me. Stay tuned, because we have more on the future tradespeople who are looking and loving roofing. Thank you NERCA for a great convention and for looking outside the box to bring in the next generation.
From the road,
Heidi
Heidi Ellsworth is owner of HJE Consulting Group and a partner in RoofersCoffeeShop®. See her full bio here.