Leap, LLC Video Playlist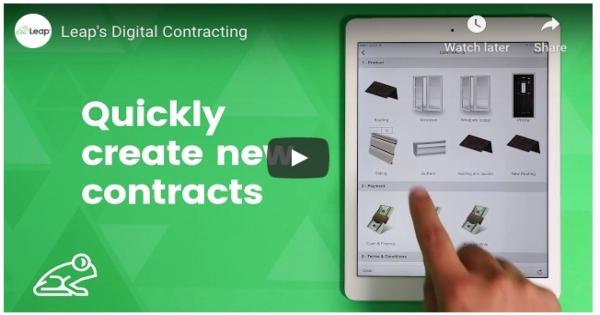 ---
Leap is transforming the home services industry as the first-ever end-to-end point of sale application digitizing every stage of the in-home sales process including estimating, financing, contracting and real-time communication. Created by seasoned home services professionals, Leap's application helps businesses eliminate errors and increase efficiency by simplifying and automating the day-to-day sales process.
To learn more about Leap, LLC, visit their RCS Directory.
Request a free demo of the Leap application.
---
What is Leap?
---
Leap's Digital Contracting
See Leap's revolutionary digital selling application in action! Quickly create estimates and move right to an error free contract, ready for the homeowner to sign on the spot!
---
Leap's Overview of Services
Watch how Leap streamlines the entire in-home sales process, including digital estimating, digital contracting, rapid financing response and real-time data communication.
---
Leap Customer Testimonial: Long Roofing
---
Leap's Digital Estimating
Watch how Leap's produces estimates faster and more accurate than the manual way
---
Leap's Digital Financing
See how Leap's paperless processes speeds up the financing process.
---
The Sketch Pad Feature: Visually Enhance Your Documents
---
3 Easy Ways to Reach Homeowners Online
Digital marketing pro Shashi Bellamkonda provides fast, easy ways to reach new customers through digital means that anyone can do and how it ties into proven human behavior.
---
Share this: