By George Daisey, The Dow Chemical Company for WSRCA.
Understanding the differences in types of coatings and their performance.
Installing or restoring a roof can be a tremendously complicated endeavor. There are single ply membranes, roof systems, coatings, concrete, metal and many more variations to choose from, which leads anyone to ask what substrate do I choose? To add further complexity, within the coatings option alone there are a variety of product types available: silicone, acrylic, polyurethane, and asphalt? Each presents notable features, strengths, and weaknesses to consider.
Roof Coatings Market Review
The roof coatings market in the United States is a growing, vibrant market. According to data from the U.S. Census Bureau combined with Dow internal analysis, it's estimated the total U.S. Construction Market is valued at approximately $1.1 trillion. Roofing is a little over 1% of that total which still represents a staggering $14 billion value. Within the scope of roofing, is a bright and shining market called roof coatings. The roof coatings market is rapidly approaching 6% of the total roof market with a value of approximately $780 million (see Figure 1.). There are many factors contributing to this growth but I will mention just one: the ever-aging building inventory. As buildings get older it becomes more common that two roof systems have already been installed and doing a third roof system either means tearing the first two completely off and starting over, or applying a maintenance product like a roof coating. In terms of cost savings and less impact on the environment, roof coatings win that debate almost every time.
In terms of growth, all three of these market segments can be described as healthy and growing. The same sources of information describe the total construction market growing at a compound annual growth rate (CAGR) of 8.2%. The $14 billion roofing segment is growing at 5.2% CAGR, and the roof coatings segment is humming along at a 4.7% CAGR. Compare this to the U.S. GDP (Gross Domestic Product) which during the same period grew at a modest 2.4% CAGR. During that same period the U.S. GDP was valued at $17.9 trillion; the U.S. Construction market represents over 6% of the total U.S. GDP. All these numbers simply show that these markets are large, vibrant, growing and poised to continue delivering advancements.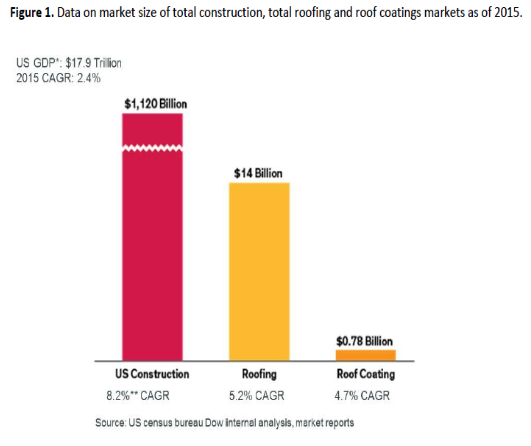 In fact, if we look at data spanning 2011 through 2016 we see the U.S. roof coatings market growing at a rate of 5.2% CAGR, and that rate appears to be steadily increasing year over year. Starting from a total market value of $653 million in 2011, the growth rate has steadily increased on average to reach an annual growth rate in 2016 of 7.8% CAGR.
The two fastest growing segments in the roofing market are Thermoplastic Polyolefin (TPO) membranes and roof coatings (see Figure 2.). The tightening regulations on energy efficiency and lowering Volatile Organic Compounds (VOCs) have fueled demand for energy-efficient and low VOC products like TPO membranes and roof coatings.
Roof coatings show steady growth but indicators express the fastest growing portion of the roof coatings market is in higher performing coatings. It is easy to drive volume with lower cost products, but when growth is seen in higher value portions of a segment, there is good news for all parties. This means the customer is moving towards higher performing products that will deliver more value and longer service lifetime. The contractor is able to capture more value by selling and installing higher value products, and the manufacturer is also benefiting by offering the contractor higher value and higher performing products.
Why Choose A Roof Coating
With so many choices for roofing, why would you choose a roof coating? There is no one answer to this question. Roof coatings come in many varieties not limited to water-based, solvent-based, reflective, non-reflective, thick-film, thin-film, white, black and all colors in between. Where do I start?
First, let's answer the question posed above; why choose a roof coating? The first answer that often comes to mind is sustainability. In the United States alone, more than 251 million pounds of waste finds its way to landfills and nearly 40% of that waste comes from construction projects1. According to a Construction and Demolition Recycling article published in March 2018, global construction waste will double from the 1.3 billion ton total in 2012 to 2.2 billion tons by 2025. Identifying volumes of particular waste products is often difficult due to the variety of classes assigned to waste products; although certain roofing materials like shingles, asphalt and concrete are often mentioned in published waste studies.
If we truly want to offer sustainable products that make a difference to our environment, roof coatings are a great way to accomplish this objective. The application of a roof coating can extend the life of an existing roof and minimize the need to tear off a roof and send those materials to a landfill. In fact, whether the roof coating installation is new or retrofit, regularly scheduled recoating of that roof can reduce the need to landfill the original roofing assembly and lead to a viable solution for that roof. Looking for a sustainable solution? Then roof coatings are your answer!
How about sustainability from the standpoint of energy consumption? Energy efficiency is becoming more important to everyone. From the building owner dealing with utility bills to the occupants dealing with comfort level of the built environment, energy efficiency and performance of buildings is important. One of the most impactful jobs I ever participated in was a production facility where the building owner needed eight HVAC units to cool the building and office areas still never reached below 76 degrees. The roof was a black surface and the owner hired a contractor to convert the roof to a reflective surface by applying a reflective roof coating. After the installation, the owner stated that he was able to shut down three of the HVAC units and maintain a comfortable 72 degrees in the office spaces. That's a win for everyone involved from contractor to owner to occupant.
Climate change is a hot topic almost everywhere you go, from construction sites to conference room meetings; even to your social media conversations. Everyone is talking about climate change, the environment and our planet. We all want to live better. Whether you believe reports of global warming, global cooling, and climate change or subscribe to none of it, constructing sustainable buildings and saving energy enables us to build a better future. Roof coatings can be a huge part of any sustainable, energy efficient building design project.
A building owner or other key decision-maker is often confronted with the choice of maintenance versus capital investment for a roofing project. A capital investment often means the cost of that roof installation is depreciated over many years; whereas a maintenance project can often be deducted in the same tax year. Most roof coatings installations fall under the maintenance category which allows the building owner to deduct the costs immediately. Note, tax laws change frequently; always check with your tax advisor to verify. This life cycle cost analysis compares two roof maintenance scenarios to demonstrate the value of roof maintenance.
Easy – and quiet – installation is a winner and roof coatings can deliver this in almost every situation. When a tear-off and complete roof assembly installation is done, there is often major disruption of building activities as well as areas around the building. Large trucks hauling materials in and waste out.
Sections of the parking lots cornered off to allow for trucks and materials to be moved and stored. Let's not forget the dust and debris generated during construction. But many roof coatings jobs can be done in "stealth mode." Buckets, drums or even totes of roof coatings can be delivered to a job site and transported up to the roof without many people aware that it is happening. I've personally been on jobs where the buckets are transported up a service elevator to the roof and the occupants do not know the roof is being coated!
We choose products because we want them to perform well. Roof coatings not only protect the existing roof and extend its service life, but roof coatings can deliver measurable performance. A roof coating may offer one or more of the following performance benefits: extended service life, water resistance, waterproofing, enhanced solar reflectivity and/or thermal emittance. Often, a roof coating enhances the appearance as well be transforming a dingy, dirty roof into beautiful colors ranging from basic white or black to a variety of highly decorative shades.
Selecting a roof coating for its variety of benefits is a first step. Now comes the hard part – which type of roof coating do I choose? Let's explore some of the most common options on the market today, including their benefits, challenges and typical service life.
Acrylic
Acrylic roof coatings can be based on 100% acrylic or styrene-acrylic copolymers. Focusing on 100% acrylic roof coatings, these coatings offer excellent durability as well as the following typical properties: UV resistance, good permeance, dirt resistance, water resistance, and abrasion resistance. Acrylic coatings are water-based, easy to apply, easy to cleanup, and cure times can be tunable from several hours down to several minutes. Acrylic coatings are often installed as coating-only, but a growing sub-segment of acrylic coatings is as part of a liquid-applied membrane. Those familiar with acrylic decorative paints are familiar with a wide color palette, but for roof coatings that can vary. Steep slope thin film roof coatings can be supplied in a diverse color palette, but low slope elastomeric acrylic roof coatings are limited to white or light pastel colors. Deeper colors in these elastomeric coatings are possible to formulate but these colors often do not hold pigment as well, which leads to other technologies being used when deep colors are required. Acrylic roof coatings are limited to good weather conditions during installation because they are water-based. Excessive humidity or extreme temperatures can limit the success of an acrylic roof coating installation. Constant exposure to ponded water is also challenging for most acrylic roof coatings, resulting in impaired adhesion, blistering and delamination. However, the formulating space for acrylic roof coatings is wide; hence coatings can be formulated into anything from an economy coating up to an exceptionally high performing, durable coating. This variety makes acrylic roof coatings a great choice for the contractor looking for anything from an economical, low service life roofing solution up to a multi-decade lifetime roofing solution.
Styrene-Acrylic
Styrene-Acrylic copolymers are a subset of the acrylic roof coating technology and should be treated separately. At a fundamental level, the styrene monomer is not as UV stable as the acrylic monomers used in roof coatings. Combining styrene with acrylic monomers to form a styrene-acrylic copolymer can deliver good performance properties; however, notably high performance is difficult to achieve versus the juggernaut of acrylic-acrylic copolymer interactions. In the roof coatings market, styrene-acrylic coatings are usually found in the economy space or in the lower warranty products. The good news is that styrene-acrylic roof coatings do have some notable performance properties, including excellent adhesion to metal and concrete and re-coats over existing acrylic roof coatings.
Silicone
Silicone roof coatings are all the buzz in the roof coatings industry. These coatings are not water-based and come in either low solids (~67%) or high solids (~98%) formulations. Silicone roof coatings are extremely resistant to water absorption, with some products literally having 0% water absorption according to standard ASTM D471 tests. The silicone polymers used in these coatings are UV light stable, do not degrade when exposed to sunlight, and thus offer one of the highest service life guarantees of any coatings option per installation. For commercial roofing, ponded water areas are the most challenging space on a roof for any coating, but silicone roof coatings are specially designed to perform well in those high moisture situations. A few challenges do exist for silicone roof coatings; including the need for primers over most surfaces, poor asphalt bleed resistance, difficulty to recoat, and low abrasion resistance. However, the long service life and water resistance make the silicone roof coating a popular choice for low slope commercial roofing. Due to the slippery nature of the surface on a silicone roof coating, they are often not recommended for steep slope roofs.
Polyurethane
Polyurethane (PU) chemistry delivers some noteworthy properties versus the coatings already discussed. A PU roof coating will often offer exceptionally high tensile strength and elongation versus other technologies. In situations where high tensile strength, toughness and chemical resistance are desired, PU roof coatings are an excellent choice. Adhesion and water resistance are often very good with PU roof coatings. It is important to note that PU coatings can come in either aromatic or aliphatic type chemistries. Only the aliphatic type are UV stable and offer long-term durability. These coatings are solvent-based and do need specialized spray equipment separate from either silicone or acrylic.
Asphalt
Asphalt coatings are the oldest technology discussed in this article. The use of asphalt can be traced back to the ancient cultures like Greece and Babylon2. In fact, the earliest known use of asphalt dates back to around 615 B.C. when King Nabopolassar paved the streets of Babylon with asphalt and burned brick so he could have easy access in and out of his palace. In modern-day roof coatings, asphalt coatings come in a variety of forms. There is traditional hot mop asphalt where the solid asphalt is heated and melted before being rolled or broomed onto a roof. Newer versions of this black color coating are in emulsion form where the asphalt is emulsified in water either through mixing with surfactants or high-pressure processes. Further differentiation is between traditional black asphalt coatings and the newer silver or reflective asphalt coatings. Both in solvent and water-based emulsion form, the reflective asphalt coatings fit in a niche space between non –reflective and highly reflective roofing products. Hot mop asphalt and cold-applied asphalt emulsion are often applied to the roof as the waterproofing layer. With their near-zero permeance and hydrophobicity, there is no better waterproofing coating for roofing than asphalt coatings. These basecoat/primer coatings can then be top-coated with reflective aluminized asphalt or acrylic roof coatings. In some cases, the desire is to have a black surface so the asphalt coating is the final coat as well. The reflective aluminized asphalt coatings have good solar reflectivity and low thermal emissivity giving them a significant energy value proposition. Lifetime expectancy of aluminized roof coatings have improved over earlier incarnation of the technology due to improved formulation quality and refinement of the aluminum flake. In climates or situations where both very high reflectivity and emissivity are not desired, the moderate energy performance of the aluminized roof coatings can be the best choice.
SEBS
Styrene Ethylbutylene Styrene or SEBS coatings are solvent-based coatings that offer excellent water resistance and very low permeance. Often SEBS is positioned against acrylic roof coatings as having an extended season of use; not as subject to the cold temperatures encountered in the shoulder seasons. SEBS coatings can be described as super-hydrophobic and will have a moderate service life versus silicone or acrylic roof coatings. The challenges for SEBS coatings include high VOCs and limited color option; typically only sold in white according to leading distributors of the product.
Polyurea
Polyurea roof coatings are a very small percentage of the roof coatings market, but they offer an excellent property balance and can be the right choice for many roofs. Polyurea roof coatings are great waterproofers, have excellent chemical, abrasion and corrosion resistance and have an extended application season versus water-based systems. Some of the challenges are high VOCs and the reactive chemistry. An acrylic roof coating will dry by evaporation of water typically over a few hours, whereas the polyurea chemistry is reactive causing the coating to cure in a matter of seconds. The applicator must have a high skill set to spray this type of coating. Exterior durability is moderate, but long service life is never the driver for polyurea coatings; it is usually the chemical resistance or waterproofing properties that drive the use of polyurea.
PVDF
Polyvinylidene Fluoride or PVDF coatings are different from the previously discussed coatings in many ways. First, they are not applied to commercial roofs in thick films. Often a PVDF roof coating is applied at 2 to 4 dry mils thick. The cost per pound of a PVDF coating is much higher than other technologies, but is counter-balanced by the performance it can deliver in a thinner film. The benefits of PVDF over other coatings include improved dirt pickup resistance, long-term reflectivity, long-term durability, water repellency and mildew/algae resistance. Colors are no challenge for PVDF as they can be supplied in a diverse color palette. The main challenge is balancing the hardness and toughness of the PDVF coating versus the flexibility of the elastomeric basecoats often applied before the PVDF coating. PVDF coatings have advanced over the years and though earlier versions suffered from cracking issues, newer offerings have improved their crack resistance. It is always a challenge to apply a hard, rigid coating over a soft flexible coating, which must be understood by the contractor/applicator.
Conclusion
There are a diverse variety of roof coating technologies available in the North American market. Each roof coating technology has its noteworthy balance of properties and features that need to be understood by the buyer and user to determine the best option for intended use. Beyond roof coating product properties, type of substrate, service life, maintenance planning, sustainability benefits, and cost are considerable factors to help the coating chosen to meet the needs of the job.
Not a Member of Western States RCA? Click Here to Join!
Legal Disclaimer
All rights reserved. All content (text, trademarks, illustrations, reports, photos, logos, graphics, files, designs, arrangements, etc.) in this Technical Opinion ("Opinion") is the intellectual property of Western States Roofing Contractors Association (WSRCA) and is protected by the applicable protective laws governing intellectual property. The Opinion is intended for the exclusive use by its members as a feature of their membership. This document is intended to be used for educational purposes only, and no one should act or rely solely on any information contained in this Opinion as it is not a substitute for the advice of an attorney or construction engineer with specific project knowledge. Neither WSRCA nor any of its, contractors, subcontractors, or any of their employees, directors, officers, agents, or assigns make any warranty, express or implied, or assumes any legal liability or responsibility for the accuracy, completeness, or any third party's use (or the results of such use) of any information or process disclosed in the Opinion. Reference herein to any general or specific commercial product, process or service does not necessarily constitute or imply its endorsement or recommendation by WSRCA. References are provided as citations and aids to help identify and locate other resources that may be of interest, and are not intended to state or imply that WSRCA sponsors, is affiliated or associated with, or is legally responsible for the content reflected in those resources. WSRCA has no control over those resources and the inclusion of any references does not necessarily imply the recommendation or endorsement of same.