Roofing Technology Think Tank (RT3) Podcast Playlist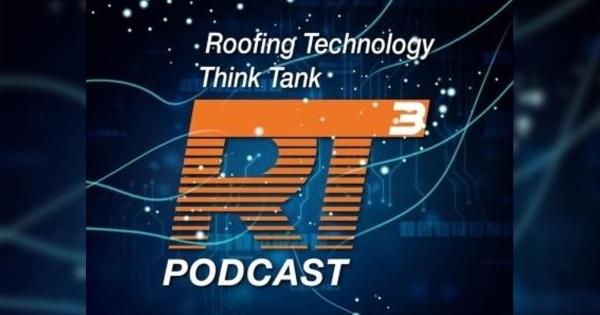 Roofing Technology Think Tank (RT3) is a consortium of thought leaders exploring technology for the roofing industry. The RT3 Podcast series highlights emerging and disruptive solutions that help build the professionalism and appeal of the roofing industry. Listen to these captivating podcasts and subscribe!
Check out RT3 by visiting their RCS Directory.
To learn more about our host, Ryan Groth visit the Sales Transformation Group RCS directory here.
---
E012 | Innovating with Female Roofing Industry Leaders
May 6, 2021

In this installment of the RT3 podcast, Ryan visits with Heidi Ellsworth, Wendy Marvin and Michelle Boykin about the lessons learned from this last year. All three influential women are RT3 members and serve on the boards of roofing industry associations. They discuss the ever-growing benefits that being involved in the industry can bring to contractors and the importance of staying engaged and networking - whether virtually or in person.
---
E011 | Rast Bryant - Innovating with Viking Products Group
Mar 3, 2021

Join Ryan Groth as we learn from Thomas Bauer about Viking Products Group, a supplier partner Chad with Ollesheimer and two contractors who are applying these innovative solutions and saving significant money with increased labor efficiency. Eric Feist with ASI Commercial Roofing and Maintenance and Mason Sherman with CJE Restoration provides real-life examples of these innovative Viking Products to help them win more work and save money on labor.
---
E010 | Innovating with the NRP Pointivo System
Sep 21, 2020

Today, Ryan is joined by John Kiesel of Division 7 Roofing, Jeremy Dickmann of PRIMM Roofing, and Brad Beldon of Beldon Roofing to discuss the NRP Pointivo system and how it is pushing the industry into the future.
Learn more about our guests:
John Kiesel www.divisionsevenroofing.com
Jeremy Dickmann www.primmroofing.com
Brad Beldon www.beldon.com
---
E009 | Innovating with Joanne Rodriguez
Jul 20, 2020

Today, Ryan is joined by Joanne Rodriguez of Mycocycle. They discuss environmental issues facing the industry and how Joanne and Mycocycle are taking on those problems. They focus on the materials generated when replacing a roof and how mushrooms can mitigate the harmful byproducts.
To learn more about our guest Joanne Rodriguez, visit https://mycocycle.com/
---
E008 | Tech Talk with Ken Kelly and Leo Manson
Jun 15, 2020

Today, Ken Kelly fills in for Ryan and is joined by Leo Manson of Microsoft. They discuss how Microsoft has seamlessly adjusted to their employees working from home and how technology can help so many people during this COVID-19 crisis and beyond.
To learn more about our guest Ken Kelly, visit https://www.kellyroofing.com
---
E007 | Innovating with Brad Beldon
May 18, 2020

Today, Ryan is joined by Brad Beldon of Beldon Roofing. They discuss the challenges of the work and family balance, especially when working with family. As well as the technology they have adopted to advance and streamline their business.
To learn more about our guest Brad Beldon, visit https://www.beldon.com/
---
RT3 Coronavirus Specials: E005 | E006
Apr 17, 2020
During this worldwide pandemic, many owners of roofing companies have questions and concerns about their ability to thrive in this uncharted territory. Join the following experts to hear how a roofing company can virtualize their business.
Host and Marketing Expert: Anna Anderson, Art Unlimited
Sales Expert: Ryan Groth, Sales Transformation Group
Commercial Roofing: Steve Little, KPost Company
Residential Roofing: Ken Kelly, Kelly Roofing
Legal Ramification Expert: Trent Cotney, Cotney Construction Law
E006 | RT3 Special - This Week's Buzz and Tactics for Running Your Virtual Roofing Business

E005 | RT3 Special - Virtualizing Your Roofing Business in Light of Coronavirus

---
E004 | Rast Bryant - Using Data to Make Business Decisions
Mar 24, 2020

Today, Ryan is joined by Rast Bryant of Target Roofing. They discuss how to solve problems using data and when that method is and is not ideal, as well as how Target Roofing approaches marketing, optimization and educating the client.
To learn more about our guest Rast Bryant, visit https://targetroofers.com
---
E003 | Innovating with Ken Kelly
Mar 16, 2020

Today, Ryan is joined by Ken Kelly, president of Kelly Roofing. They discuss Ken's early days working with, and innovating for his father, as well as approaching technology correctly and not just hoping it'll compensate for flaws or shortcomings.
To learn more about our guest Ken Kelly, visit https://www.kellyroofing.com
---
E002 | Innovating with Charles Antis
Feb 20, 2020

Today, Ryan is joined by Charles Antis, CEO of Antis Roofing & Waterproofing. They discuss the unique way Charles and his team approach their marketplace and how they have branded themselves to really stand out. They go in depth as to what and more importantly, why you should implement some of these innovative and adaptive strategies with your brand and positioning.
To learn more about our guest Charles Antis, visit https://antisroofing.com
---
E001 | Innovating with Rackley Roofing
Feb 17, 2020

Today, Ryan is joined by Curtis Sutton and Michelle Boykin, the CEO and COO of Rackley Roofing, respectively. They discuss the kinds of employees to look for, brand innovation by becoming the official roofer of the Tennessee Titans, and investing with trainers to empower your employees. They conclude by going in-depth on the future of roofing and how to adopt and integrate software to help streamline everyday operations.
To learn more about our guests Curtis Sutton and Michelle visit https://rackleyroofing.com/
---
---