Jobba Trade Technologies was founded on the belief that
all roofing contractors, subcontractors, manufacturers and consultants should have the tools they need to successfully operate their business.
To stand by this, we created Jobba, an innovative, easy-to-use roofing solution, to help meet the unique and ever-changing needs of the roofing world.
Since we began our journey over 10 years ago, Jobba Trade Technologies has helped many companies—from small businesses to large corporations—close more sales, enhance customer satisfaction and streamline their workflows.
Our goal at Jobba Trade Technologies is to provide roofing contractors with state of the art tools and solutions that help their business excel in the world of roofing and exterior construction. Jobba Trade Technologies (creators of FCS Roofing Software and Jobba) provides technology solutions that bring all contractor business operations and software together on ONE single platform.
From step-by-step inspections to centralized job scheduling and dispatch ticket management, our newest cloud-based solution, Jobba, integrates processes across departments and provide managers with performance-based reporting and powerful tools to accelerate the company's growth. Jobba improves your customer experience with automated communications and professional, branded inspection reports. Plus, it's intuitive and easy to access on all your devices - desktop, tablet and mobile.
At Jobba, we aren't just a roofing CRM that helps you optimize your business. We are partners who work with you through every goal and obstacle to ensure you are getting the most out of your investment. Our team of professionals takes pride in hearing what works and doesn't work for you. Jobba practices a contractor-driven development approach. This means we look to you, the experts, to tell us what functionality and features would benefit your roofing business and build them into our platform.
Visit our website. Request a Demo. Contact Jobba.
---
Jobba Now Available in Multiple Languages
Jobba meets the needs of the roofing industry with a new toggle feature for multiple languages.
RoofersCoffeeShop® sat down with Jobba Trade Technologies's CEO Scott Keith to discuss Jobba's new multilingual capability.
Jobba, the roofing industry's leading software provider, announced the availability of their roofing software in multiple languages including Spanish. With a growing Spanish-speaking workforce, the ability for all employees to communicate effectively in their first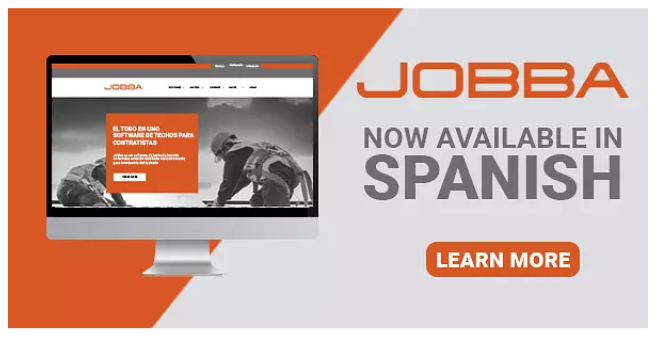 language is now being met within Jobba roofing software.
With the ongoing increase of refugees, immigrants and the overall rise in Spanish as a first language, the need for multi-language software continues to grow.
With easy-to-use language toggle features, Jobba's multi-language platform continues to break new ground in the roofing industry with the potential of supporting over 100 languages.
Learn more about what sets Jobba apart!
---
Helping You Grow Your Roofing Business
Jobba's roofing software is more than just software. It's a powerful roofing technology platform designed to help commercial roofing contractors and larger community roofers generate new business, build stronger customer relationships, and save valuable time by automating manual processes.
Essentially, Jobba's roofing software is built to make your life easier and give your company a competitive advantage.
Before we can dive into all of the moving parts of roofing software, it's important to understand what it actually is. Roofing software is a type of cloud-based business management software that has been designed exclusively for the roofing industry. It was created to help roofing companies and their various teams effectively and efficiently manage tasks and roofing projects.
It's no secret that every industry follows different procedures and techniques. So every business should have access to tools that fit how their industry works. For example, a plumber or electrician wouldn't have the same business needs as a marketing company. It doesn't make a lot of sense for a roofer to work with the same CRM as a healthcare provider.
Most basic CRMs are designed to provide companies with a centralized place where they can store customer and prospect data, track communications, see project/task updates and run business reports. Relatively standard, right? While roofing CRMs, like Jobba, have the ability to do everything a standard CRM can do, they can also handle more roofing industry-specific details, including:
Creating estimates and proposals
Ordering updated aerial roof measurements
Managing projects and production
Tracking sales
With so many important roofing details at their fingertips, roofing companies are choosing to implement roofing software as a more efficient way to manage their business and increase their opportunities.
Why is roofing software better than a DIY solution? A lot of business owners—including roofers—have the same question before deciding to add a CRM or any new software to their business plan: Why is this a better option than how I currently manage tasks and have for years? Because your business handles so many different projects of different size and scope, it's not surprising that vital information can fall through the cracks.
Using a self-made process requires using multiple apps and platforms to make sure jobs are being completed and prohibits you from being able to easily handle simple tasks.
However, roofing CRMs, like Jobba, allow you to handle all aspects of your business without having to switch from platform to platform. Your roofing team can easily manage customers and leads, access aerial measurements, handle billing details, and more—all in one location.
Roofing software can also help you understand where your business might be bumping into problems. It helps identify if projects aren't sticking to timelines, missing details/documents, delayed sales and much more.
View more software features.
Check out our Roofing Software Guide.
---
Testimonials
"Jobba allowed us to increase our service sales by 20% in our first year. We found room we didn't even know we had to work with."
- Anthony Schena, President of Schena Roofing
"We have implemented Jobba across 16 offices and it is great to see how our clients have responded to what we can do for them."
- Casey Owners, Service Manager of Peach State Roofing
"Jobba is the engine that drives our NationsFM client portal which has allowed us to really stand out in the corporate accounts arena."
- Jim Nugent, Executive VP of Nations Roof
"Before implementing the software, the company's process was to measure a job, go back to the office to develop the estimate and then mail the estimate out to the customer. With Jobba in place, they can now accomplish all of those steps in the field and send the estimate electronically or print it out in the truck. It also proved to be a help with connecting the main office with satellite offices and improved communications. With all locations using the same tools and processes, efficiencies have increased across the board. The team is happy because they are getting their work done faster and don't have work hanging over their heads at the end of the day when they go home."
- Paul J. Cazeault, Owner of Cazeault & Sons Roofing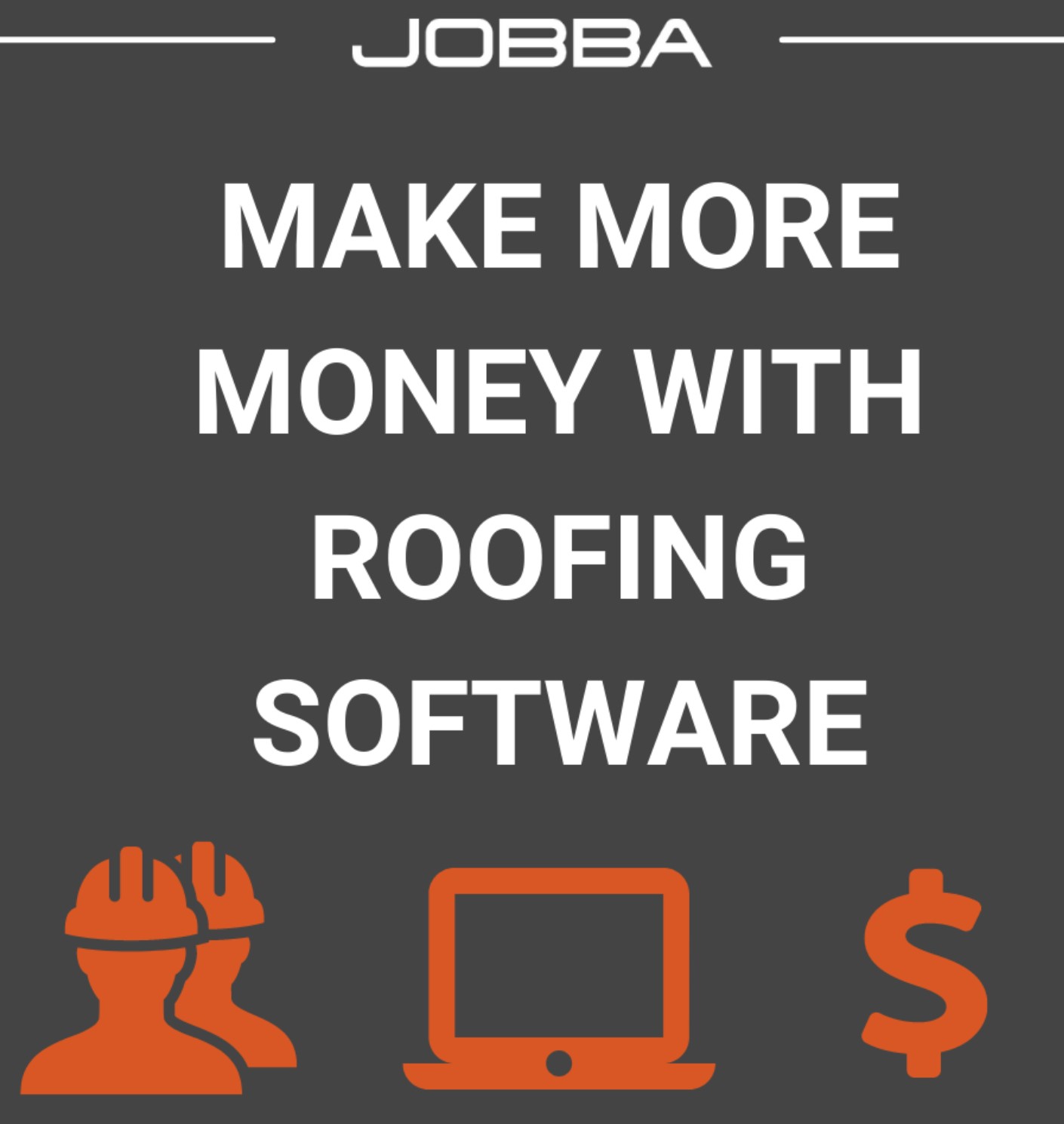 "With Jobba we finish our reports and work orders before we even come off the roof, which eliminates having another to-do to finish the paperwork."
- Jimmy Stroh, President of Jimmy's Roofing
"Using our prior platform, we got to a point where we couldn't grow any further; Invoicing was a 21 step process, Jobba turned it into just 4-5."
- Gregg Wallick, President of BEST Roofing
"We are going on our 4th year with Jobba and it has really become a key component in the way we go to market with corporate accounts."
- Doug Sutter, President of Sutter Roofing