How does Angi Leads work for contractors?
Angi Leads connects contractors with homeowners who are ready to hire pros for their home projects — giving you access to targeted leads for your business. Simply choose the services you offer and the locations you serve, and we'll match you with homeowners looking to start projects in those areas. We give you the tools you need to connect with homeowners and win the job.

Receive 50% off leads for your first 30 days on Angi as a RoofersCoffeeShop Community Member. Get started..
What's included with a Angi Leads Membership?
Online Business Profile
Angi Leads Directory Listing
Verified Ratings and Reviews
Seal of Approval
Angi Pro Leads App
Member discounts
Industry trends + helpful tips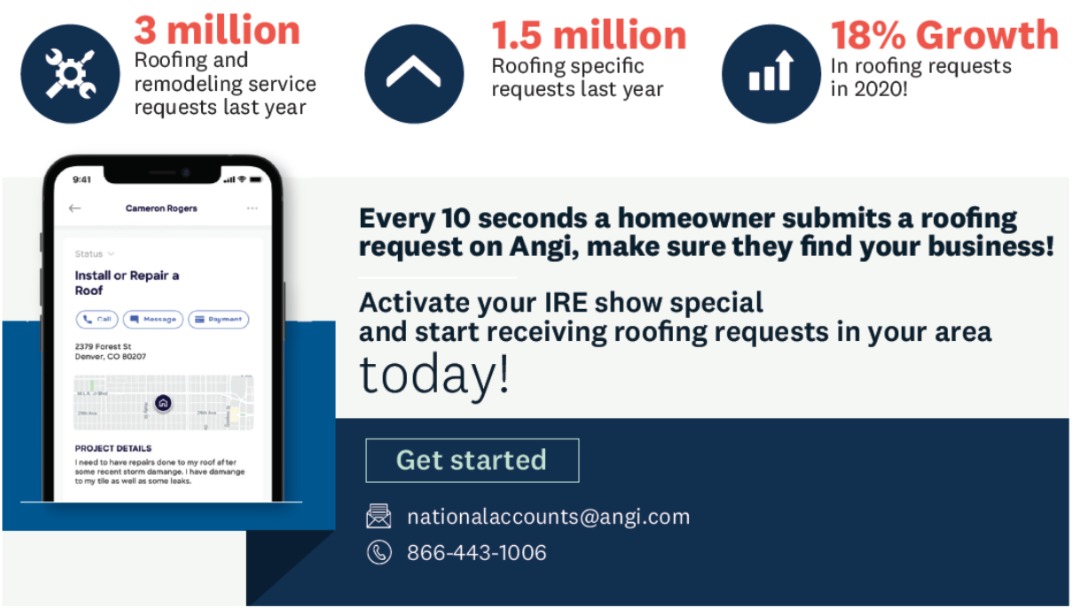 Interested in trying Angi Leads? Get started and receive 50% off roofing leads for your first 30 days on Angi Leads as a RoofersCoffeeShop Community Member.
---
What Would you do With $5000? - Contest Open Through April 8, 2022!
Angi will be awarding five roofing companies $5,000 to invest wherever its needed most. Whether that is training, hiring, tools, safety, technology or more, enter for a chance to give your business a $5,000 boost!

---
About Angi
In 2021 Angie's List and HomeAdvisor came together to become Angi, combining the superior technology of HomeAdvisor and the brand strength of Angie's List to create a best-in-class experience
Angi provides the nation's largest network of screened contractors and is a one-stop shop for homeowners looking to turn their renovation dreams into reality. Our mission at Angi is for every homeowner to love where they live. We're taking on that mission by making Angi thee home for everything home.
Over 250,000 verified pros covering 500+ home project categories in over 400 major service areas in the US trust Angi. Angi receives over 32 million requests annually from motivated homeowners. Learn more: www.pro.homeadvisor.com/r/meet-angi-leads/